Miniature Hereford Cows
"Jemima" is a nice polled cow.  She has been a part of our herd for a couple of years.  If you are looking for that deep, red color, that is what she produces.  A good mother and all around a great addition to any herd.   She has been bred back to a nice, OOOO, polled bull.
DOB:  5/29/2007
Price:  $4,000
SOLD          SOLD          SOLD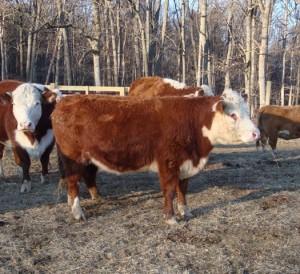 ♦      ♦      ♦      ♦      ♦      ♦
"Tess" is a OOO horned cow.  She has good color and has been a good mother.  She is bred back to a OOOO polled bull.
DOB:  7/20/2005
Price:  $3,500
SOLD          SOLD          SOLD